Bolton Tree Services
We offer a full tree surgery service, and we are able to discuss your needs and find the best solution for you. Here is some further information on our most popular services: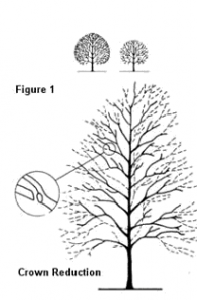 Crown Reduction
Eventually the tree's canopy can grow to a size where they are too large for the area they inhabit. The canopy may need to be reduced to prevent damage to buildings or to clear a roadway or drive.
If you have a tree you believe needs Crown Reducing; our team are here to help.
Reducing tree height
When it comes to tree reduction, we will assess your tree first before deciding how to proceed. This will be dependent on the tree species, shape, size and condition. Our aim with tree crown reduction is to prune the tree efficiently to maintain an even balance. This ensures that the tree remains in a healthy and safe condition.
Crown reductions are carried out by pruning each individual branch back to a growth point. By doing this it prevents die back on the branch which creates unsightly deadwood. To remove the risk by using lowering ropes and slings where necessary to ensure our safety and to prevent damage to the surrounding area.
We adhere to BS3998 (British Standard) guidelines for tree pruning ensuring your tree is dealt with professionally, and in a manner you can trust. We ensure the tree's health is not impacted whilst obtaining the desired shape.
If you need a tree Crown Reducing, Please call us on 01204 592850 or email us at info@arieltreecare.com.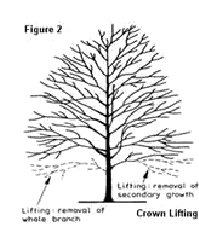 Crown Lifting
There are times when trees and their branches grow so much that they decrease the amount of space between ground level and the trees lowest branches. You may be required to duck beneath the branches when you walk under them (and aren't always successful) This is when you need to crown lift the tree.
Crown lifting is increasing the clearance between the ground level and lower branches. The benefits for crown lifting your tree are:
Keeps the branches away from buildings.
Keeps the branches away from passing traffic.
Creates a higher tree canopy to walk beneath
Allows more light to penetrate through the canopy.
Can open up a desirable view that may be blocked by the lower branches of the tree.
Our solution for Crown Lifting
We inspect the tree to decide which branches need to be pruned or removed to create the desired effect.
Taking care when crown lifting
It is advisable to find a tree surgeon to conduct the crown lifting, as there is potential damage to the tree that can occur if not done correctly. The main stem of the tree can be damaged if you remove too large a branch and can then cause decay.
If you need a tree, or row of trees crown lifted, Contact us on 01204 592850 or email us on  info@arieltreecare.com and we can advise on how to proceed.
.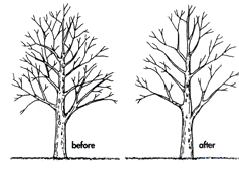 Crown Thinning
There are times when the canopy of the tree becomes too dense and, thereby blocking out the light. This can damage other plants, grassed areas and trees, and also plunge buildings, and gardens into darkness. Crown Thinning is the method of allowing more light through the crown without altering the shape or size as you might with a Crown Reduction. We remove selective branches from within the canopy to allow a balanced amount of light to penetrate through the canopy.
Helping with your tree thinning
The method for Crown Thinning is the selective removal of branches throughout the canopy. Tree Surgeons will usually set the percentage of how much of the crown will be thinned by. Your Tree Surgeon shouldn't reduce more than 30% of the crown overall when Crown Thinning the tree.
Your Tree Surgeon will usually proceed by removing dead, dying and crossed branches first and then proceed to select further branches to complete the desired result.
If you need a crown thinning, our surgeons are available to help. Please feel free to call on 01204 592850 or email us on  info@arieltreecare.com.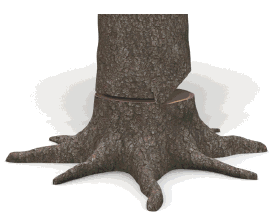 Straight Felling
If you have an unwanted tree in your garden, there are various ways of removing it. Straight felling is the 100% removal of a tree down to ground level by felling a tree as a whole. Tree felling is one of the most dangerous procedure an untrained person can perform, and so is best left to professional arborists. To avoid any damage or destruction, the tree removal will involve leaving the stump as close to the ground as possible.
Straight tree felling guide
If you need a tree felled as a whole, we have outlined the process below:
Your tree surgeon assesses the area and establishes any potential hazards surrounding the tree. These can include power lines, buildings or other structures.
Next, the tree surgeon will establish the direction the tree can be felled in. This takes into account the weight of the canopy and the surrounding area that the tree will fall into. Once both of these aspects have been appraised, your tree surgeon with clear the area of any hazards and ensure there is a clear retreat path.
Your tree surgeon will then create a directional cut to ensure the tree falls as planned.
The final back cut is then created to form a directional hinge to allow the tree to fall in a controlled manner.
As professional tree surgeons, we will remove your tree safely. If you have a tree that needs felling, please give us a call on 01204 592850 or email us on  info@arieltreecare.com.
Section Felling
When a tree has out grown its environment and there isn't enough space to Straight Fell then section felling is the correct method of removal.  Your Tree surgeon will dismantle the tree in sections utilising ropes and lowering devices to prevent damage to the surroundings.
Removing tree limbs
If you have a tree requiring section felling, this is done using rigging equipment to control the descent of the cut materials. If the situation is too hazardous for us to climb your tree, we will use a Mobile Elevated Work Platform (MEWP) to access the crown.
If you need a section felling for your tree, our surgeons are available to help. Please feel free to call on 01204 592850 or email us on info@arieltreecare.com.
We can use multiple pruning techniques to acquire the desired results. This is why it is always worth contacting us for a free quotation and advice on the options available to you.
Tree Stump Removal
When a tree is removed the tree stump is left just above ground level, the tree stump can be removed using a Stump Grinder. Certain types of trees will try to regrow if the stump is not removed. Additionally, once removed the area can be replanted, turfed or paved over.
Tree stumps are best removed using professional stump Grinding equipment and the right techniques. Grinding creates minimum ground disturbance and is less likely to damage drains and utilities that pass close to the tree stump.
When can a tree stump be removed?
We recommended removing a tree stump immediately after a tree is felled. However, the stump can be removed at any time.
How do you remove a tree stump?
We use a specialist piece of equipment called a Stump Grinder. It removes the stump and major roots to allow the area of land to be used again. The process causes minimal ground disturbance over excavation techniques.
To ensure the whole stump is removed correctly, efficiently and safely, we recommend always calling a qualified professional company.
If you would like to inquire about our tree stump removal services, please call us on 01204 592850 or email us at info@arieltreecare.com.
More Our Tree Surgery Services